eConsult
eConsult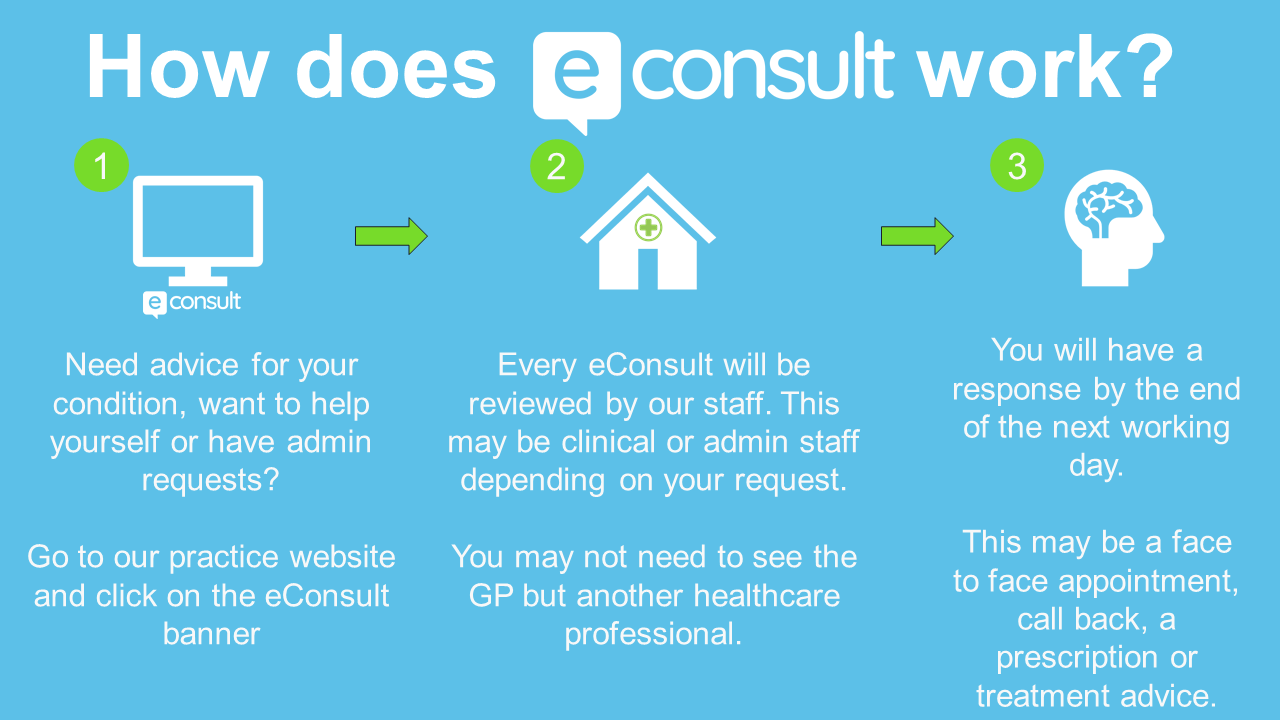 eConsult provides medical advice at the click of a button.

Please visit our practice website at - www.killamarshmedicalpractice.co.uk - and click the link that states contact our doctors online. Here you will be able to learn more about your condition and contact your GP via a form, this will allow the GP to decide upon the most appropriate treatment options for you and you will receive an response by the end of the next working day. You will also be able to request test results and extensions of fit notes.
Important changes to the way you order your medication
The Practice is no longer able to accept prescription requests from pharmacies or appliance contractors on a patient's behalf. Instead, patients should order their medications via the following methods:
1. The new Prescription Medicines Order Line provided by NHS Derbyshire.
Telephone (01246) 588860 9.00am - 4.00pm, Monday - Friday

2. Patient Online Services – please bring your ID to reception to register for this service.
Nominate a Pharmacy
Killamarsh Medical Practice is now asking all patients to sign up to a local pharmacy of your choice, this will save valuable time for our Practice staff and will make things easier for you.
Your prescription will be sent electronically to your nominated pharmacy, ready for you to collect your medications.
You can sign up to this service at any pharmacy or by asking one of our receptionists to nominate your preferred local pharmacy.
Practice Closures for essential training - QUEST
IMPORTANT NOTICE
Killamarsh Medical Practice is committed to ensuring adequate time is allocated for staff training and development. Therefore, Killamarsh Medical Practice will close at 1.00pm on the following dates:-
Wednesday 6 April 2022

Wednesday 11 May 2022
Wednesday 8 June 2022
Wednesday 13 July 2022
Wednesday 10 August 2022
Wednesday 14 September 2022
Wednesday 12 October 2022
Wednesday 9 November 2022
Wednesday 14 December 2022
Wednesday 11 January 2022
Wednesday 8 February 2023
Wednesday 8 March 2023
The out of hours service (Derbyshire Health United) will take all calls and manage requests for urgent review. No routine appointment or prescribing service will be available during this time.

Important changes to the way you order your repeat medication
The practice would like to reduce the number of telephone prescription orders due to the clinical risk involved.
Therefore, we would like to encourage patients to order their repeat medication via one of the following methods:
If your prescriptions are sent directly to your designated pharmacy, you can request your medication through them.
Sign up for patient online access, which allows you to order repeat medication at a time to suit you. Ask reception staff for more details or download a form here
Use your written prescription counterfoil and post it in the red prescription box at the surgery.
We thank you for your co-operation in this matter.
Stay safe and well in the cold weather
With sub-zero temperatures travelling is becoming difficult for many, so residents should think about how they could best access any healthcare they need. The best option may be to stay at home to recover, to visit a pharmacy for treatment, use a walk-in or urgent care centre, or to call NHS 111 for advice and signposting to a healthcare service.
More often than not self-care is the only treatment you need for minor ailments, such as headaches, colds and flu, or minor injuries like muscle pulls and strains.
The cold weather is a killer and can take its toll on your body, particularly if you are more susceptible to illness because you are elderly or have a long-term medical condition. So, we are urging the most vulnerable to take a few simple precautions to protect themselves from the cold – as it could save their life:
Keep yourself warm in and outdoors.
If you suffer from a long-term medical condition, are pregnant, or over 65 make sure you book an appointment to have your flu jab.
If you take regular medications, make sure you have sufficient supplies and remedies to treat yourself when you are becoming unwell. Ensure that you have access to help and support when you may need it.
People should think about how the bad weather may affect friends and family, particularly if they are older or very young or have pre-existing health conditions. These groups can be particularly vulnerable to the ill-effects of cold so think now what you could do to help.
It only takes a few simple measures to protect yourself and your family from winter-related illnesses and incidents. People can keep warm and healthy by following our five top tips.
1. Heat your home well by setting your heating to the right temperature (between 18-21ºC). If you feel cold at night, use a hot water bottle or electric blanket – but never use both together. It is especially important if you're at home all day.
2. Eat well and have plenty of fluids. Food and water are vital sources of energy, and they help keep your body warm. Try to make sure you and your family have hot meals and drinks regularly throughout the day.
3. Get a flu jab. You can get free flu jabs to protect against seasonal flu from your GP or local pharmacy if you are over 65, pregnant, or have a long-term condition.
4. Look after yourself and others. On cold days try to avoid going outside. However, if you do need to go out, remember to wrap up warm and take care on slippery surfaces. If you have an older neighbour or relative, look out for them during the winter to make sure they are safe and well.
5. Keep your medicine cabinet well stocked. If you're on medication, make sure you get your repeat prescriptions in time so you don't run out. If you haven't already, talk to your GP practice about registering for Patient Online. Simply complete the paperwork and you'll be able to request repeat prescriptions online as well as make GP appointments. Check to make sure you have enough over the counter remedies for coughs and colds so you don't need to leave home unless you have to.
For more winter health advice:
Visit www.nhs.uk/staywell
Sign up to the NHS Choices newsletter (see the latest example here). It's packed full of useful advice for staying healthy in cold weather.
Read Met Office advice for when travelling during heavy snow and on icy roads.
Visit the Health A-Z section on the NHS Choices website, or download Self Care Forum's fact sheets from their website for advice on how to treat minor illnesses.
National Diabetes Audit: helping to improve diabetes care
Killamarsh Medical Practice will be taking part in an important national project about diabetes care and treatment in the NHS. The project is called the National Diabetes Audit (NDA)
To take part, Killamarsh Medical Practice will share information about your diabetes care and treatment with the NDA. The type of information, and how it is shared, is controlled by law and enforced by strict rules of confidentiality and security.
For further information about how your information is used please see the NDA patient information leaflet.
Click here for NDA Patient leaflet
Taking part in the NDA shows that this GP practice is committed to improving care for people with diabetes.
If you do not want your information to be used, please inform reception, your GP or nurse. This will not affect your care.
More information is available - please ask a member at reception.
Sign up today for GP online services - Quick, easy and secure
---
GP online services allow you to access a range of services via your computer or mobile. Once you have signed up, you will be able to:
book or cancel appointments online with a GP or Nurse

renew or order repeat prescriptions online

view parts of your GP health record, including information about medication, allergies, vaccinations, previous illnesses and test results
This service is free. Everyone registered with a GP can have access to their practice's online service.
If you wish to sign up for this fantastic service, patient online access forms are available from reception or can be downloaded here.
Patient Online Access Request Form
Important - Once the online access form is completion , please take your form to reception along with photographic ID. Access will not be grated until ID has been seen and internal verification processes are completed.
New: SMS Reminder Service
Once you have signed up to the service, every time you book an appointment you will recieve an appointment confirmation SMS and a reminder SMS the day before.
Infection Control Audit...
Our infection control audit result for September was 97.79%